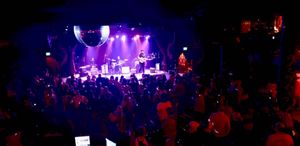 "

Ritch Henderson is the real deal. Better and better every damn time we see him. Get on board for the ride. " - Sean Payne
— The Amp
About Ritch
A native of Cullman, Alabama, about halfway between Birmingham and Huntsville, Henderson is another artist on this list who has been turning some heads with the release of their debut albums this year. Titled Fallacies & Four-Letter Words, Henderson's 10-track project illuminates his songwriting prowess and soulful vocals, and is further proof of the amazing music that has been coming out of Alabama recently. - Whiskey Riff
Ritch Henderson is a seasoned songwriter, musician, and performing artist hailing from the poverty-stricken hills of Northern Alabama; his "lived in" lyrics invoke an uncanny sense of familiarity, all the while challenging the status quo. Combining his intellectual lyrical prowess with his raw, soulful voice; Ritch has managed to make something as traditional as "Rock & Roll" feel brand new. As for the members in his band, they are all technically trained session musicians from Nashville, TN. who have bought into the vision of their Berklee-educated leader.  Ritch Henderson & The Grandiose Delusion deliver one of the most passionate, well-rounded live shows in the independent touring scene today.    
Ritch has performed with the likes of 49 Winchester, Drayton Farley, Pony Bradshaw, Nolan Taylor, John R. Miller, Blackberry Smoke, Whiskey Meyers,  Alabama, The Marshall Tucker Band, The Steel Woods, The Wooks, Lynyrd Skynyrd, Hank Williams Jr.,  Reckless Kelly,  Alex Williams, The Buffalo Wabs, John R. Miller, Arlo McKinley, and The Charlie Daniels band. In addition to his touring success; Ritch's music was featured on the album "Just Behind The Creek" which peaked at #11 on Billboard's Bluegrass charts, Ritch has recently been billed with Tyler Childers and others on this year's upcoming Healing Appalachia festival in West Virginia. 
"Ritch Henderson doesn't merely sing a song. He spews pieces of his soul into the ether with each verse".   
- Jay Potter, The Hippies And Cowboys Podcast