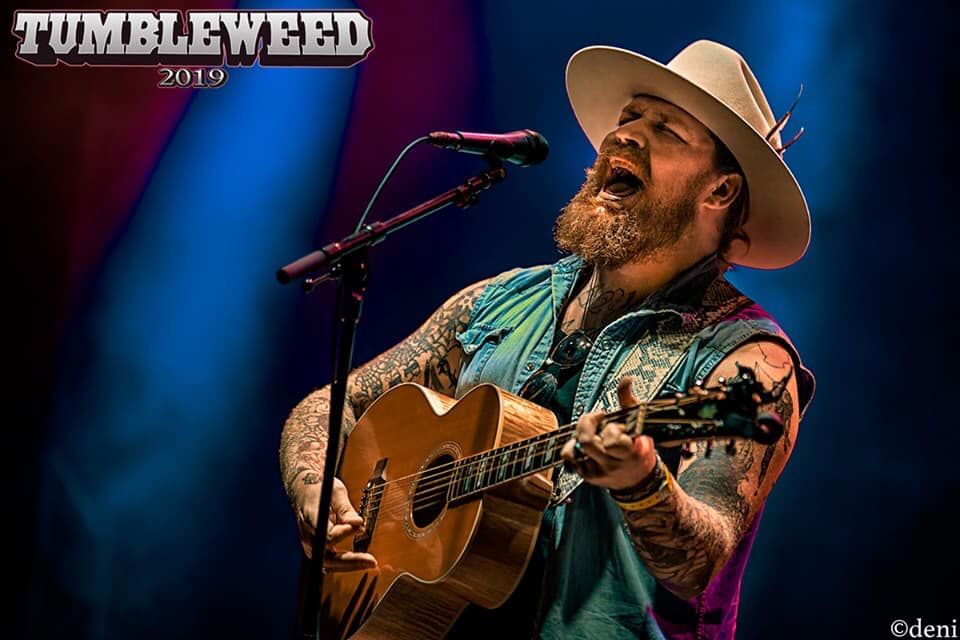 It was a little over a year ago, I started hearing the name Ritch Henderson. 
With a handful of social media posts and live feed videos of him performing original and cover songs, my interest was piqued. He had an intensity in his delivery that made you take notice. Ritch's lyrics are clever and moving. There's an unmistakable vibrato in his voice. He has style. He has charisma and he's burning up the road with all of that arsenal. 
The first time I was able to meet Ritch was in La Cygne, Kansas for the Tumbleweed Music Festival in June of 2018. He was a kind, humble fellow that was filled with infectious excitement for the music and fellowship of the weekend. The buzz around the festival was about the organization of a song swap after-hours in the campgrounds. There were so many great songs shared around that circle, but the crowd stand-out that night was Ritch Henderson. Riding on that proverbial "high" of wowing the campground circle, he and a few others moved to a campsite near mine and Ritch continued singing into the first light of day.Henderson's song "Autumn Moon" was the song I fell asleep to him singing and hours later was also awakened with. 
Maybe it was the circumstance of that night or maybe it's the song itself, but it's my personal favorite of his. 
Ritch is a veteran of the United States Marine Corps and resides in North Central Alabama. His life experiences have given him the fodder from which he draws his material. He finds inspiration for his music and lyrics from his love of the music that is coming out of the Appalachian region today. 
Henderson sites some of his favorite artists and songwriters as Tyler Childers, Jason Isbell and the Turnpike Troubadours. Those artists are also inspirational in his writing and performance style. 
Ritch doesn't associate his style to just one genre of music, however. His music spans through country, rock, and soul. I have to agree with that assessment and I appreciate the diversity in his style. 
In the Fall of 2018, Henderson went into the recording studio of Ken "Dakota" Jones of Florence, SC. Jones recorded, mixed, and mastered Ritch Henderson's debut 8-song album, Live at Southern Harmony Recording Studio. This stripped-down EP is unadulterated and beautiful. With just Ritch and his acoustic guitar, you are transported to a front row seat in the best listening room you can imagine. It's where you get to know the songs; learn about Ritch and the emotions this life has pulled out of him. 
I previously mentioned my affinity for "Autumn Moon." This is the third track from the live album. The song has a very nostalgic tone. It takes you back to the excitement and almost euphoric feeling you had with your first young love. You are suddenly transported back to the time when you felt the most alive and invincible. Didn't we think we knew it all despite the goading from our elders?  
Henderson sings, "…it takes me right back to a simpler time / I loved you out loud / I swear that I did / What do you know, boy? / You're just a kid." 
The following track on the album is "We All Fall Sometimes." I think the title kind of speaks for itself. Ritch describes the song as an understanding that even though life may look outwardly fine for certain individuals, they may actually be suffering in silence and doing everything they can to keep moving forward.  
"Feeling alright for the shape I'm in / Life can't always go our way / Live and learn to fight another day / We all fall sometimes / And the world won't stop today / Move on / You've got to find a better way." 
One of the songs that I find most interesting on the Live at Southern Harmony Recording Studio album is "The Story So Far." The song is about a musician contemplating the implications of making a deal with the devil in order to gain success. The song is set to a quick, pulsing tempo with the bridge giving way to a more traditional arrangement of the chorus and back to the quick tempo for the verses. It's not hard to tell that the devil in the song is representing the record companies offering up tempting deals. The problem lies in the worth of those deals. We all know the devil truly wants to only trade for a man's soul. The devil offers up all of the temptations to lure said musician in, but in the chorus lays out what's really in store: 
"To set it straight, I am not your friend / I do my bidding for souls of men / You should know when you sign with me / I guarantee only misery." If you are an artist looking for a break on Music Row, you might recognize this scene. 
Another song that I feel bears mentioning is "Incarceration Song." It is not one that has been recorded, but Ritch has been performing in his live shows. It's a pretty personal song with a powerful message. The song is in reference to a stint he did in county jail and the unfair treatment of a childhood friend he witnessed who was also serving time. His friend had suffered the terrible loss of both parents in a month's time and was having trouble dealing with the heartbreak. Subsequently, he turned to drugs and spiraled downward, hard and fast. The man that Ritch knew before, but hadn't seen in nearly a decade, was no longer who he remembered. The once fit, healthy, and gainfully employed man was withering away as a result of his battle with addiction. Because of his friend's appearance and recent history, he was treated very poorly while incarcerated. That unfair treatment and labeling just proliferated the man's addiction. Henderson wrote this song as a message that no one is above the grips of addiction. We are all one tragedy or bad decision away from being this person or worse. Offering solutions, instead of labels and stigma, is the only way to treat someone that is battling addiction. 
Ritch Henderson has been zigging and zagging between the Southeast and Midwest, performing his songs and making new fans. A few weeks ago, Ritch earned himself a spot performing on stage at this years Tumbleweed Music Festival. The same festival that he was discovered the previous year performing at the campground song swaps. It was truly heartwarming to watch Ritch perform on that Tumbleweed stage and have his fans singing his songs back to him. 
In the grand scheme of things, Ritch has had a big year and I only anticipate more growth and exposure. His excitement for the future is contagious and I can't wait to see what that future holds. 
Get out and see Ritch Henderson live! You can check out his Facebook for dates in your area.
- Jolene Horihan for Oklahoma Reviews